Proposals for developing the Mead Street area, the development brief, how to have your say about the proposals.
The regeneration of the area around Mead Street is part of the Temple Quarter and St Philip's Marsh regeneration project. This is a project to transform the area around Bristol Temple Meads to create new homes and jobs for Bristol's growing population and economy.
Our plans
Mead Street is at the north-eastern edge of Bedminster, close to the Bath Bridges Roundabout and Bristol Temple Meads station.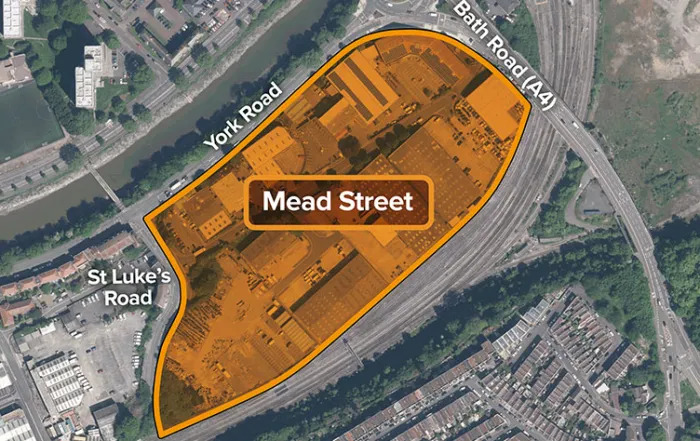 The area has the potential for around 1500 new homes, high quality employment and public spaces, and sustainable travel routes. We want to create a mixed neighbourhood with both homes and businesses. At Mead Street we want to:
make a place people want to live and work
provide better routes for sustainable travel
create high quality public places
provide new green space at the heart of a new neighbourhood
The regeneration around Mead Street will be based on the principles of our One City Plan. This aims to meet the UN's Sustainable Development Goals by improving:
poverty
inequality
health and wellbeing
the environment
The development brief
In late 2021 and early 2022 we talked to the local community and businesses about our ideas for future development in Mead Street. We used the feedback to help us write a draft development brief for the area. The brief includes:
a vision for the regeneration of the area
key principles for change
other considerations for future change in the area
Have your say
We want to hear your views about the draft development brief, before the consultation closes on Monday 4 July.
Online
Visit the Mead Street development Brief consultation to:
read a summary of the draft Mead Street development brief

see the full document
complete the survey
In person
Go to one of our drop-in events at LPW House, Princess Street, Bristol, BS3 4AG on:
Wednesday 22 June, 3.30 to 7.30pm
Thursday 23 June, 3.30 to 7.30pm
Alterative formats
Ask for a paper copy or information in an alternative format by:
Visit the Bristol Temple Quarter website for more information about the Temple Quarter and St Philip's Marsh project .