Work we've already done on Gaol Ferry Bridge, work still to do, how much the work cost, restoration of other New Cut bridges.
Gaol Ferry Bridge reopened on 8 September 2023 after essential repairs.
Gaol Ferry Bridge is a well-used foot and cycle bridge. It crosses the New Cut of the River Avon, joining the south of Bristol to the city centre. It's the main pedestrian route across the river into Wapping Wharf.
Repairs we've done
We closed the bridge on 22 August 2022 to:
replace structural steelwork, rotten timbers and decking
repair steel lattice work and stonework
repaint the whole bridge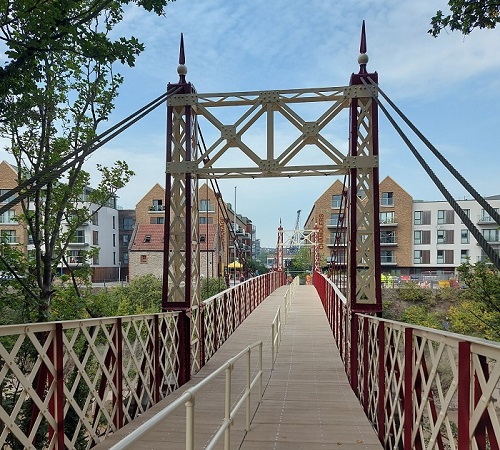 Repairs still to do
Over the next few weeks we'll:
install lighting on the bridge
finish the pedestrian crossing on Cumberland Road between Gaol Ferry Steps and the bridge
Restoration costs and funding
The repairs cost in the region of £1.5 million.
This figure reflects the extensive repairs that were needed when we removed the decking and paint from the bridge.
The repairs were partly funded:
through highways capital budget
from the City Region Sustainable Transport Settlement, provided by the Department for Transport
About Gaol Ferry Bridge
Gaol Ferry Bridge is an ornate suspension bridge that opened in 1935.
It was called Gaol Ferry Bridge because it replaced a ferryboat crossing and was built near Bristol's old prison, New Gaol, before it was mostly demolished.
The entrance and part of the Gaol walls still stand on Cumberland Road and are designated as a grade II listed building.
Restoration of other New Cut bridges
Five more New Cut bridges are set to be repaired over the next five years, including:
Sparke Evans Park Footbridge
Vauxhall Footbridge
Bath Bridge (twin bridges)
Bedminster Bridge (twin bridges)
Langton Street Footbridge
Work will include:
joint repairs
resurfacing and masonry strengthening
This work will make sure each bridge remains open and safe for many years to come.
We're investing £16 million of funding from the City Region Sustainable Transport Settlement into this programme of repairs and will look to keep the city moving as much as possible.