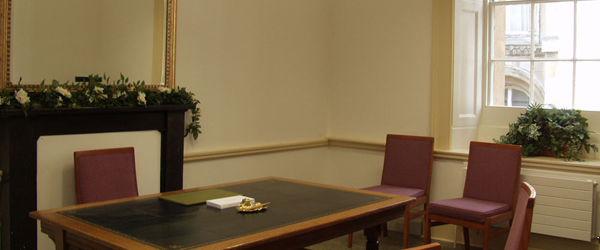 The Statutory Room is perfect for simple marriage and civil partnership ceremonies.
Capacity and social distancing measures
Because of coronavirus (COVID-19), we'll only allow a maximum of 4 guests plus the couple in the room for the ceremony.
Make sure that:
your guests sit in accordance to seating plan which is in line with government social distancing guidelines
you only move around the building in accordance with signage and floor markings
you arrive 20 minutes before scheduled ceremony time as you'll have your ceremony interview together
Your guests must remain outside the register office until they're invited into the ceremony room.
Photographs will be permitted after the ceremony inside the ceremony room and outside the Register Office. No photographs permitted elsewhere in the Register Office.
You can find more details on how to plan for the ceremony and what rules you should follow on the COVID-19: Guidance for small marriages and civil partnerships (GOV.UK).
Price
Price includes two Registrars to conduct and register the ceremony and one marriage certificate.
The Statutory Room is not available from Wednesday to Sunday or on bank holidays. It's also not available for renewal of vows ceremonies.
Price is valid from 1 April 2021 to 31 March 2022.
Call 0117 922 2800 to check availability or make a booking.