What the City Centre Regeneration project is, what the City Centre Development and Delivery Plan (or plan for short) is, and how you can keep informed.
The City Centre Regeneration project builds on the pdf City Centre Framework (20.54 MB) which was adopted in 2020. A City Centre Development and Delivery Plan is being produced.
You can share your views by completing our survey or adding comments to our interactive map on the City Centre Bristol website.
Where our work is focussed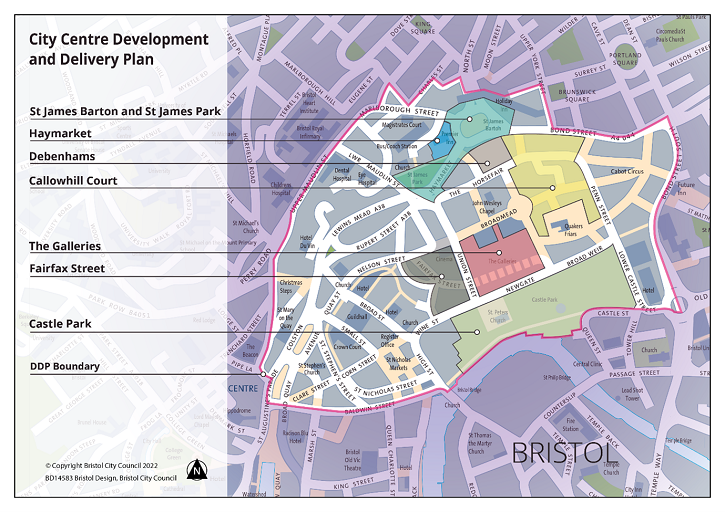 image Full size map of the City Centre Development and delivery Plan area (515 KB)
The plan will cover a large area of central Bristol, extending from Marlborough Street and Bond Street in the north, to Castle Park in the south. It includes The Galleries, Fairfax Street, Callowhill Court, Haymarket and the former Debenhams store (some of which are already subject to development proposals from private developers) as well as the St James Barton area (including the Bearpit and St James' Park) and Castle Park. Note that it does not include the harbour area (which is being considered through a separate project) or the area in front of the Hippodrome.
About the city centre regeneration project
The project will consider potential long term changes to buildings, spaces and streets and the way these spaces are used. It will consider what is needed to support a thriving city centre in the context of the climate and ecological emergencies, and current and future economic and social pressures.
We want to respond to the city's challenges by:
creating inclusive economic growth
providing quality homes for Bristol's growing population
creating jobs and opportunities in places that people can easily get to close to homes and public spaces, and through enabling more sustainable travel
supporting a thriving retail sector
responding to the climate and ecological emergencies
As part of Bristol's One City Plan, we are committed to meeting the UN's Sustainability Goals (SDGs), including addressing poverty, inequality, health and wellbeing and the environment, in order to achieve a better and more sustainable future for all.
What the City Centre Development and Delivery Plan is
The plan will guide change in the project area identified within the city centre. It will be there to:
set out a long-term vision for the future of the city centre which partners, stakeholders, businesses and the community can support
encourage long-term change to be coordinated across the area
define key principles that can be used to guide future development
Once complete the plan will be taken to Bristol City Council's cabinet for endorsement. The plan will then be used to:
inform developers and landowners to help shape their planning applications and detailed designs
help determine whether planning applications should be approved
guide Bristol City Council's actions as a key landowner in the regeneration area
Key considerations of the plan
The plan will outline how a liveable, vibrant, safe and inclusive city centre can be created that people of all ages will want to live in, work in and bring their families and friends to visit.
It will set out plans and proposals for:
St James' Barton Roundabout and St James Park: considering how this area can support sustainable transport and provide for better connections, improved public space and consider possible development opportunities
Castle Park: considering how this important green space can be enhanced to contribute to improved biodiversity, health and well-being and support the city's communities
For other parts of the city centre (including Fairfax Street, the Galleries, Debenhams, Callowhill Court and the Haymarket) the plan will establish a vision and set out principles for future development, working with those bringing forward proposals in these areas as appropriate.
The plan will pay particular attention to key issues including:
place: looking at how to make the city safe and accessible, in particular for families with children and for journeys on foot, by bike or by bus
environment: considering climate, resources, energy, heritage, green spaces and water and looking at how redevelopment in the city centre can support the council's aim to be carbon neutral and climate resilient by 2030
assets: looking at the type and mix of buildings, including housing, needed to support the way the city centre will be used in the future and ensure a thriving local economy, a mixed-use community and a vibrant, safe city centre
The plan will consider viability, costs and funding opportunities and include a phasing plan for how change can take place over time.
How you can have your say
We want to work with stakeholders, the local community and businesses to develop our plans.
Proposals for the city centre will be informed by a mix of:
planning policy
community and stakeholder engagement
landowner aspirations
technical studies
urban design analysis and best practice
Stakeholder engagement is ongoing and wider engagement with the public will follow during 2022.
Engagement feedback will be considered throughout the project, alongside all the other technical work and findings, and used to help shape the plan.
Learn more about the project and find out how you can get involved by visiting our dedicated project website.