What the Frome Gateway regeneration project is, what a regeneration framework is and how you can keep informed.
Frome Gateway Regeneration Framework consultation
We've set out our vision to guide future development proposals and investment in the Frome Gateway Regeneration area.
Share you views and find out more about the draft Frome Gateway Regeneration Framework.
The consultation closes on Monday 4 December 2023.
You can also find more information about the project, the framework and the consultation on the Frome Gateway website.
The Frome Gateway Regeneration project is a new project aimed at transforming the land either side of the River Frome in St Jude's, known as Frome Gateway, to better meet the needs of the city and the local community.
To comment on our interactive map and find details of events visit our Frome Gateway website.
We want to:
respond to city challenges, including:

providing homes for Bristol's growing population
the climate and ecological emergencies
delivering workspaces for Bristol's growing economy

improving public health and reducing inequalities
involve the local community in developing a long-term vision and strategy for change for the area.
create a better environment for residents and businesses
Frome Gateway is located in St Jude's, Lawrence Hill. The area is north of Bristol City Centre and is bordered by Newfoundland Way/M32 to the west, Pennywell Road to the east, Houlton Street/Wade Street to the south and the north by Easton Way. The map below shows the full area.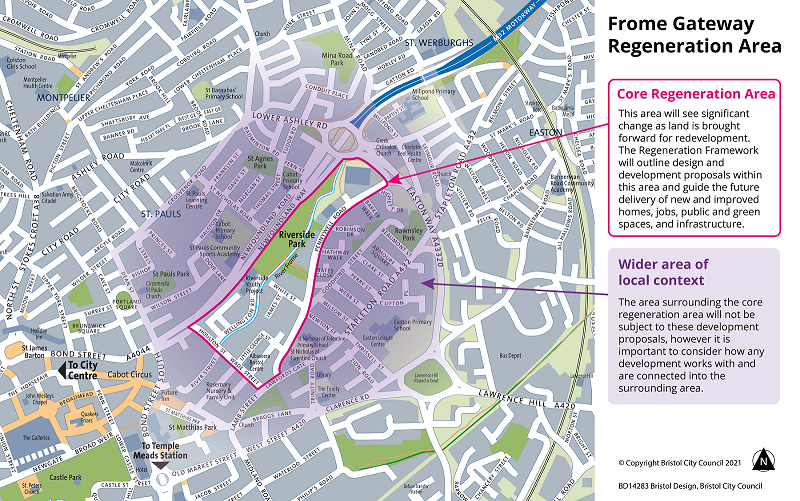 image Frome Gateway regeneration area, view full size map (2.07 MB) .
The Frome Gateway regeneration area is currently home to a number of existing businesses, some of which have been located here for a long time. The area also includes a range of community and cultural facilities including Riverside Park and the River Frome, the Riverside Youth Project, Pennywell Studios and night-time venues such as the Jam Jar.
To help us re-imagine the future of the area, taking accounting of what works well already, we'll be working alongside local people to map out the things which are cherished by the community.
The Frome Gateway regeneration will be concerned only with the 'core regeneration area' shown in the map above. This area will see significant change as land is brought forward to deliver new homes, workspaces and community facilities. The core regeneration area will also see improvements to public and green spaces and infrastructure to support growth in this area, such as Riverside Park.
Development proposals won't be brought forward in the 'wider area of local context' as part of the Frome Gateway regeneration project, however it will be important for us to consider how new development in the core regeneration area works with, and is connected to, the surrounding area.
About the Frome Gateway regeneration project
We want to create a thriving neighbourhood with:
new homes
better community and public spaces
improved green spaces, including the River Frome
new job opportunities
Businesses play an important role in the life of the city and we want to create a mixed neighbourhood where homes and businesses co-exist.
As part of Bristol's One City Plan, we are committed to meeting the UN's Sustainable Development Goals (SDGs), including addressing poverty, inequality, health and wellbeing, and the environment, in order to achieve a better and more sustainable future for all. The regeneration of Frome Gateway will be underpinned by these principles.
To help us do this we're starting to create a regeneration framework.
Why we're developing Frome Gateway
Bristol has a housing crisis, with over 16,000 people on the housing waiting list or in temporary accommodation. By re-developing sites which have been previously developed (known as brownfield sites), we can build the new homes Bristol needs in a sustainable location while protecting greenspaces around the city, helping us to respond to the climate and ecological emergencies.
We're also developing Frome Gateway because:
it's within walking distance to the city centre, and close to local jobs, shops and amenities
bringing forward development here will help increase the use of Riverside Park, and improve access to nature including the River Frome, to support health, wellbeing, and biodiversity.
some of the industrial units are empty or underused and can support new development such as new homes and community and employment spaces
it has excellent public transport links and the opportunity to create new and more joined up walking and cycling connections, helping people to travel more sustainably
What a regeneration framework is
A regeneration framework is a document that brings together urban planning, transport and design thinking, with inclusive and sustainable growth, in order to guide change in an area.
It's there to make sure that:
any changes to an area work well together
all relevant stakeholders, such as residents and businesses, are working towards achieving the same long-term vision and strategy for change
long-term change is co-ordinated across the area
Once complete, the regeneration framework will be taken to BCC Cabinet for formal endorsement. The framework will then be used to:
inform and shape planning applications, detailed designs and funding bids
help determine planning applications as they are submitted
How you can have your say
We want to work with the local community, businesses, landowners and interest groups as we develop our plan for the regeneration of the area. Proposals for regeneration will be informed by a mix of:
planning policy
community and stakeholder engagement
landowner aspirations
several technical studies
urban design analysis and best practice
By listening to and working closely with the local community and other stakeholders, we can create a long-term vision for change which everyone can get excited about.
Learn more about the project and find out how you can get involved by visiting our dedicated project website.